About - The Frog Project is the result of my wish to bring smiles and laughter to EVERYONE through artfully created, awesomely stylish FROGS! Remember.... smile, laugh repeat!
OUR MISSION
Bring smiles and laughter to EVERYONE!
Smile, it's contagious!
Ideas begin with an inspiration which leads to a sketch, experimenting with pattern, brilliant color, geometric shapes intersecting with biomorphic lines developing the thought always incorporating a subtle surprise!
Michele L Moses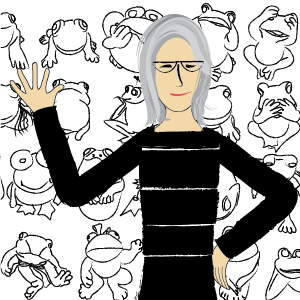 I am an established professional in the practice of commercial interior design. I enjoy animating a space with positive energy by adding the unexpected color, texture or element. Always thinking of new design ideas, I sketch or write them down hoping to explore later, but never find the time. By choice, I continue to sketch more and design interiors less. With the encouragement of friends, colleagues and family, I have established The FROG Project Design Studio with FROGS as my focus. I have great plans beyond the illustrations you see here and I will continue to update the site with new creations to inspire happiness.
Imagine25%
Sketch25%
Inspire Happiness50%
The Original Frog (circa 1961)
I haven't always had a thing for frogs. It started when I was about 10 years old with frog 001, my only frog for a very long time. When I was 25 I rediscovered my first frog rummaging through a trunk filled with childhood stuff that my mother correctly decided I would cherish later in life. I couldn't believe my eyes, I was very glad to see him, but handled him carefully seeing he was quite fragile. He had a yellow felt crown that had completely worn away. I laughed to myself, remembering my childhood notion that he would one day turn into my prince charming. Worried that he would completely disintegrate, I stored him away once again.
My family was obviously inspired by my childhood frog and began giving me the occasional frog gift. Eventually relatives and friends found anything "FROG"…. T-shirts, garden statues, Christmas tree ornaments, more stuffed animals would be the perfect gift for me. The collection grew in quantity and quality with the very best developing personalities of their own.
As time passed, an entire imaginary world grew around the frogs. This would not have been possible without Kevin Murrett, my best friend and husband. He gives life and personality to the frogs. Without him they would just be cute, but silent stuffed animals.
I decided to celebrate this select group of frogs, sketching them and finally integrating each sketch into a digital collage of color and geometry. These whimsical illustrations inspired a book titled "The Frog Project", thoughtfully designed by me as a gift for my husband on our first wedding anniversary representing the traditional theme of paper. You will find some of the frogs illustrated here…enjoy!
SaveSave
SaveSave
SaveSave
SaveSave
BlogArt - New artistic creations will be added to the FrogBlog on a regular basis. In the meantime Michele will be busy integrating these images into a variety of products available to FrogLovers everywhere.
---